Credit Mantri Loan App Review: Getting a loan is a very lengthy procedure. Not only it is time-consuming but requires a lot of hassle and other difficulties. One has to roam around different banks, a number of documents are asked, and although the loan is rejected for silly reasons. The interest rates are compared for different banks, which creates a lot of confusion and stress. Some banks do ask for collateral, which is again a stressful thing.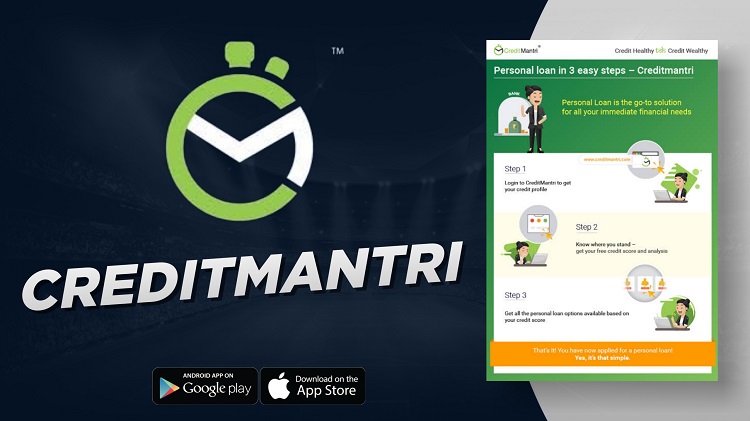 For easy loan facilities, there are several websites all over the internet. Some work on completely no collateral and very fewer interest rates. One such amazing website that helps you in getting loans easily is "Credit Mantri". In this article, I will try to describe to you everything about Credit Mantri. 
What Is Credit Mantri All About
Credit Mantri is a combination of science and credit together. The main aim of the company is to change the way of credit lending in India. It is registered under Credit Mantri finserve private limited. The bureau partner of Credit Mantri is "Equifax".
It is India's no. 1 website for credit analysis. The digital platform can help people across the country apply for loans very easily and check their credit scores in a few minutes that too for free. Credit Mantri does not charge anything from its users. 
Credit Mantri Key Features
Powered by Equifax.

Very simple and easy to use.

User-friendly interface.

One can check the credit score for free.

You will get an online credit history and score analysis.

Online platform for resolving issues related to loan dues.

Real-time rule engine to match credit lender and credit borrower profile.

First-time credit lenders can also have a credit score with special score builder loans.

Credit Mantri follows the customer-first approach.

It has more than 15 million customers.

It helps in improving your credit health.

It helps in maximizing the credit potential.

More than 40 lenders are associated with Credit Mantri.

You can see your credit quotient.

You can apply for loans and credit cards as per your credit profile.
Credit Mantri Awards Achievement
The Economic Times BFSI Innovation Tribe 2018 award in the Startup category.

The CII Connect awards 2018 for Exemplary Application of IT.

The TiECon Chennai 2018 Award under Growth Story of the Year.

CB Insights 2017 under Fintech 2017.

Red Herring Asia 100 and Credit Mantri was the winner.

Finovate Asia 2017, Credit Mantri was the presenter.
Eligibility Criteria On Credit Mantri
In order to be eligible for a personal loan, you need to be
A salaried employee or a self-employed individual/professional.
Able to satisfy the minimum and maximum age prerequisite
Fulfill the income requirements and be able to demonstrate a stable income and employment history
How To Create Credit Mantri Account?
Joining the Credit Mantri website is very simple. Following are the few important steps to follow:
Open your browser and visit

www.credi

tmantri.com

Click on the signup option.

Enter your mobile no.

Fill an invite code if you have any at this stage.

Else skip it and verify your mobile number with an OTP.

Enter your details such as email id, marital status, date of birth, pin code, PAN Card no., Etc. 

Now you will get your credit scores and your online credit profile will be created.
How Does Credit Mantri Loan App Will work?
Sign up and get a credit score for free. Your credit profile will automatically be created.

Then Credit Mantri will do online credit analysis and check for your creditworthiness. It will also see for any problematic areas such as loan dues and will provide you expert help in this.

Helps in performing required actionable such as improving credit score. 

Build your own credit profile.

Get various offers for credit cards and loans.

Get reduced EMI and borrowing costs by matching your credit profile with the lender's requirements.
How To Download Credit Mantri APK?
You Can Download The Credit Mantri APK directly from Google Play Store.
Credit Mantri Refer and Earn
Credit Mantri is coming with a great promotional offer where you can easily earn Rs 100 paytm cash but referring 3 friends. You just need to invite your friends and whenever your friends check their credit score you will get paytm cash.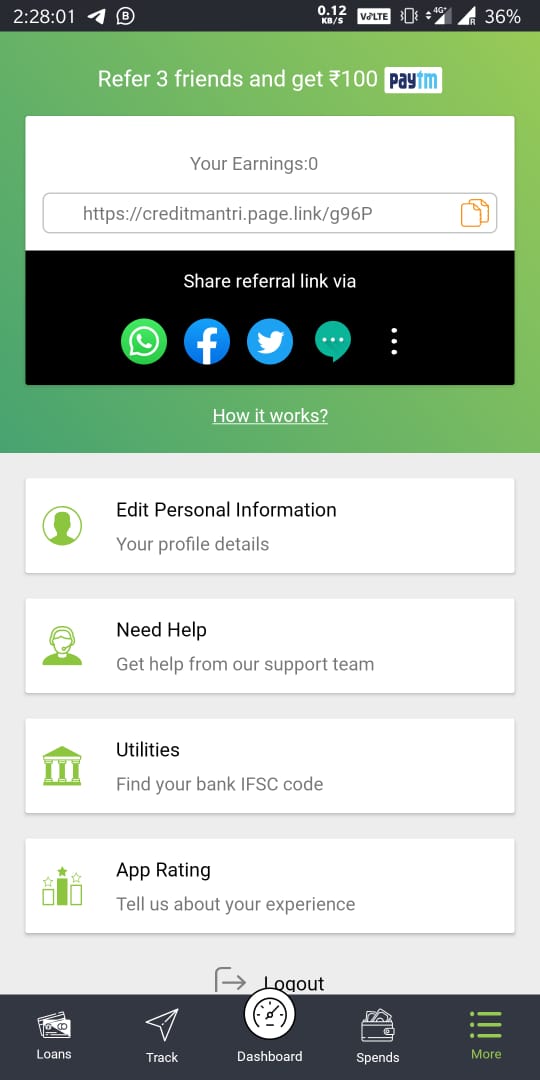 Open credit Mantri app and click on More.
Copy your referral code and share it with your friends and family.
Credit Mantri Products 
Credit Card
Under this option, you can see all the available credit cards for you. Just fill in a form with your details like email id, mobile number, residence city, employment type, residence pin code, PAN Card number, date of birth, marital status, and state. Accept the terms and conditions and submit them. You will get all the credit card options matching with your credit profile.
Personal Loan
Firstly check your eligibility criteria for personal loans. Fill in your personal details. Enter your income and loan details. You will now see the eligible offers and apply for personal loans.
Home Loan
Get your home loan eligibility report by filling all your personal details. Enter your income details. View eligible offers and apply for a home loan.
Property Loan
Check your eligibility for property loan by entering your personal details. Provide your income details. Enter your property and loan details. You will get all the eligible offers for a property loan and you can apply for.
Business Loan
One can also apply for a business loan through Credit Mantri. Just enter your personal and income details. View your eligible offers and apply for the business loans.
Short term Loan
Getting a short term loan is very difficult. But you can get it easily through Credit Mantri. Enter your personal details and income details. You will see all the eligible offers for these short term loans and you can apply for it.
Credit Mantri Customer Care Details
Address
CreditMantri Finserve Private Limited
4th Floor Sudhama, 36 Vijaya Raghava Road, T Nagar, Chennai, Tamil Nadu 600017
Final Verdict
This Credit Mantri is a platform that allows its users to get loans very easily by the credit profile. This has involved technology such as data science and encryption technology to combine it with credit lending. It will also help you in dealing with the challenges of credit history and for no credit history also. Do give it a try.