LendingKart Business Loan App: If you want to open a startup company, but worried about the initial loan? Then, you don't have to worry about it anymore.
Lendingkart is one such platform. Lendingkart is a financial firm that provides loan to small or startup organization across India. It will help your company to progress by providing funds so that you can focus more on your business. The process is very simple and easy.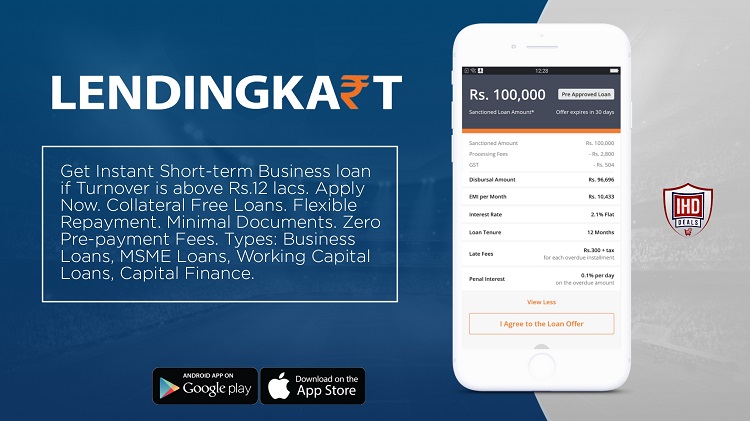 What is Lendingkart?
Lendingkart loan app is RBI approved NBFC. Lendingkart is a non-banking financial firm that funds small businesses. It was earlier known by the name of Aadri Infin Limited. LendingKart provides working capital to SMEs all over India. It helps startup entrepreneurs to get their business into the market. As small businesses cannot get a loan easily by other methods.
Try: Top 10 Best instant Loan Apps In India To Avail Cash
So, Lendingkart is a saviour for them. Lendingkart has used technology to provide loans to small businessmen on fingertips. It has used the concept of Big Data to calculate the credit score of the applicant.
Join Our Telegram Deals Channel To Recieve Shopping Offers
Lendingkart Key Features
Completely online application process.
Fast application processing, i.e., 72 hours.
Lendingkart never asks for any collateral of your assets.
There are no pre-processing charges.
Low-interest rates starting from 1.25% per month and 16 to 27% per annum.
You can repay the amount as per your convenience.
The tenure period is of 1 to 36 months.
Low processing fees, i.e., 2% of the total loan amount.
Minimum documents required.
LendingKart Interest Rates
TYPE
CHARGES
Interest Rates
15% to 27%
Loan tenure
1 Month to 1 Year
Processing Charges
1-2% (One time)

Subject to a minimum amount of Rs 1000

Prepayment
No prepayment permitted until the repayment of minimum 6 months EMI
Prepayment charges
NIL
Penal Interest
2 % per month on the overdue installment amount
Eligibility Requirement For Loan In Lendingkart Business Loan?
One must have a business.
He/ She should be aged between 21 to 65 years.
Should have valid UID issued by Indian Government.
Have bank statements and VAT returns.
The loan amount provided by lendingkart depends on your revenues.
Requirement Document For Taking Loan In LendingKart
Adhaar card.
PAN card.
Address proof.
A statement of VAT, Tax return or GST of last 1 year.
Bank statements for last 1 year.
In the case of partnership-based businesses provide proof of activity.
Based on your type of industry or business, you may require relevant licenses.
Balance sheets of the last 2 years.
Registration certificate of the company or business.
How Lendingkart Works?
In this section, I will tell you how you can take a loan from landingkart. The process is very smooth and simple, you just have to follow the few simple steps that are provided below:
Check your eligibility criteria to take a loan by filling a small form available on the website, i.e., lendingkart.com from the "Check eligibility" section.
Provide the details asked for such as name, email id, mobile no., type of business, the amount required, last sales details and age of business. Lendingkart will check your eligibility based on your provided data.
Submit the online application.
An evaluation will be done and your application and it will be sanctioned within a maximum of 72 hours and a minimum of 15 minutes.
After this, your funds will be getting credited and you can use it for your business within 3 days.
Also, you can track the status of your application from the website itself under the option named "Track status".
You can easily repay the loan amount in monthly or weekly EMIs.
Repayments can be done through NACH or you can set a method of automatic deduction from your bank account on the due date.
How Lendingkart Is Different From Other Loan Providing Firms?
Lendingkart loan app allows you to get a loan from your mobile by just giving a missed call on 080 39534900 from the registered mobile no.
You can take a loan amount between Rs. 50,000 to 2 crores.
Available in 1300+ cities all over India.
Lendingkart already supported more than 40,000 small businesses.
Above 50,000 loans are already disbursed.
Your credit score on Lendingkart does not depend on your previous profit or loss. It will consider the details of the last year only.
You can choose your type of language on the website. There is a total of 6 languages supported by the website which are English, Hindi, Gujrati, Marathi, Telugu, and Tamil.
LendingKart Customer Care Details
Also Read-
Products Of Lendingkart?
Working Capital Loan:
Working Capital Loan is provided to small and medium companies. It is a short term loan with a duration of 1 to 24 months. It helps small businesses to handle their working fund needs. You can get a loan up to 2 crores.
Business Loans:
This business loan is provided to small or medium enterprises. The process is completely online and takes only 3 days for approval. You can apply for an amount of a maximum of 2 crores. The tenure period is of 1 to 36 months and can be increased up to 6 months in case of any problem. Repayments can be made according to the invoices or sales of the company.
MSME Loan:
MSME is Micro, Small and Medium Enterprises. It is specifically for a startup or new businesses for a short term loan. The tenure period is from 1 month to 12 months.
Business Loan for Women:
This is to empower the women of India. Now, a women entrepreneur can also get a loan from Lendingkart. She can easily get a loan amount between 50,000 to 1 crore. And for women, the chances of approval also increases. The amount will be credited within 3 days. Completely online process ensures that there will be fair chances. The tenure period is of 1 to 12 months and early repayments can also be made. You can also repay the entire amount after the first EMI.
LendingKart Review – Final Verdict 
As per my opinion, Lendingkart loan app is a complete technology-based system. So, there are no chances that there will be any biased decision in loan approvals. It provides an opportunity for everyone to be their own boss. There are various types of loans available, so one can choose according to the type of business. You can get complete information from the website www.lendingkart.com.  I have observed many SMEs growing using Lendingkart. As per other customers, the process is very easy and simple.