PaySense Loan App Review: Worried about the long documentation procedure for getting a loan? Well, you don't have to worry about it now, because "Paysense" is here for your convenience. Paysense aims to make your life simpler and easier by providing loans at your fingertips.
All you need is your phone and you can easily apply for personal loans in a very simple and convenient process. Paysense will provide you instant loans.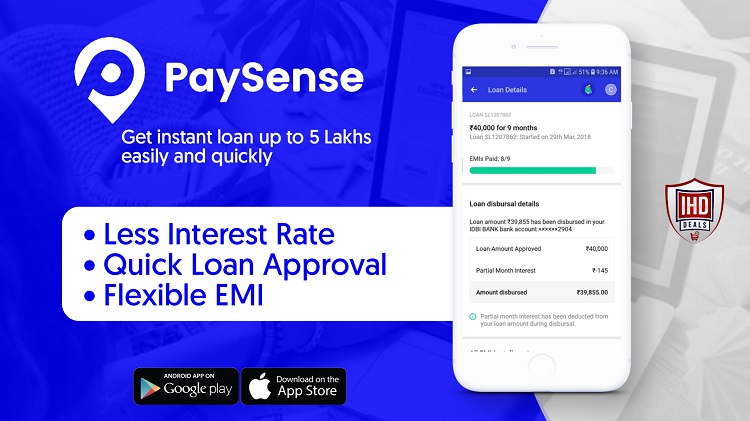 All the verification process is online you just need to upload some of your documents and Paysense will give you instant credit after your verification completes. Paysense can give you a personal loan up to ₹5 Lakhs Easily and Quickly. So if you're in need of a loan then you can use this platform and take the loan very easily. Paysense is verified by us and it is 100% safe and secure to use. Loan App For Student: mPokkt Loan app 
Let's move on to the unbiased review of PaySense Loan App
What Is Paysense Loan App All About?
Paysense is a Mumbai based financial firm that started back in the year 2015. It is registered under RBI as a non-banking finance company. The main motive was to ease the method of traditional credits. And it has achieved its main objective by providing instant loans to all over India including short term loans. Also, You Can Earn Money By Installing Google Pay App
Checkout: IndiaBulls Dhani App Loan App Review ( Best Loan App Online )
It has made finance easier and simpler by using high-end technology which resulted in hassle-free approvals and reduced the wait time. You can download the mobile application for the same and also visit its official website GoPaySense.com

Why One Should Trust Paysense App?
It is important that we should have trust on the company before applying for any credits. Paysense has leading investors who are established nationally as well as internationally. Following are some important investors of Paysense
NEXUS venture partners, NASPERS, JUNGLE ventures, VC
Paysense is in partnership with IIFL and Fullerton India and has been in news with Inc42, Business Standard, ETRISE.com
It gives loans to 43 cities in India.
There is a total of 900 branches all over India with 2,250 service locations.
Above 35 lakh happy customers with more 650 crores loan disbursed.
More than 3 million downloads on Play Store.
Check Out: ePayLater Loan App – Get Rs.20,000 Instantly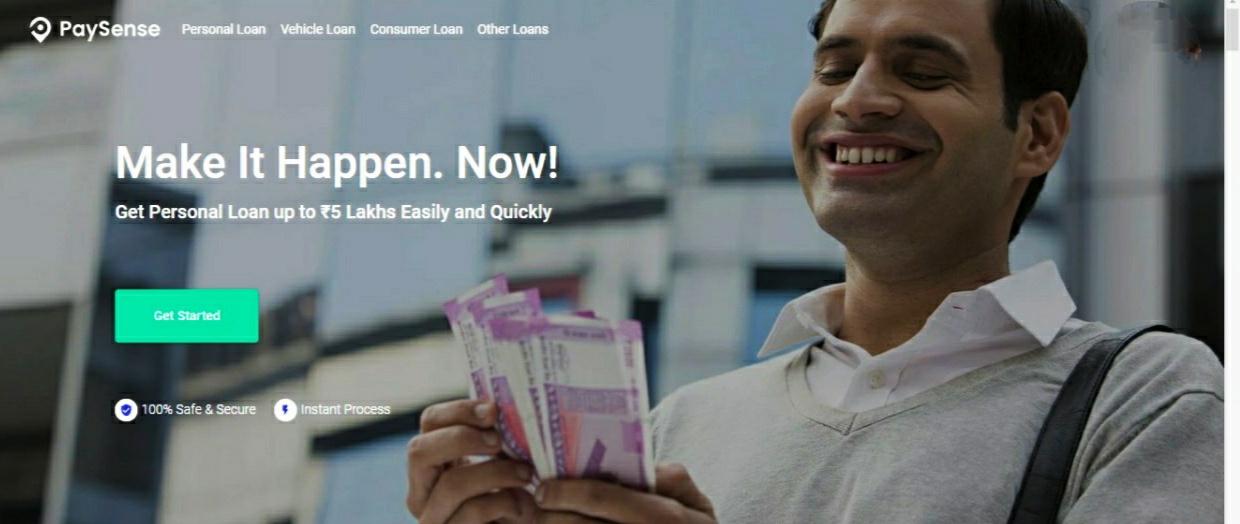 Eligibility criteria to get a loan from the paysense app?
One should be a citizen of India and should above 21 years of age and a maximum of 60 years.
Must be salaried or self-employed.
The minimum income should be 12000 for salaried and 15000 for self-employed applicants.
Required Documents For Applying for The Loan?
To get a personal loan instantly, you should keep some documents handy before you start applying.
Proof of Identity: PAN Card or Aadhaar Card
Address Proof: Aadhaar card, Rental agreement, Utility or Postpaid bills
Income Source: Last 3 months bank Statements
A Photo Of Yours (Selfie)
Procedure To Loan From Paysense App?
It is very simple and easy to get a loan from Payments. Follow the below-given steps:
1) First of all Download Paysense Loan app
2) Now install and open the app and simply click on Get started.
3) There you need to give some permission to Paysense app such as Location, Media access, Contact, etc.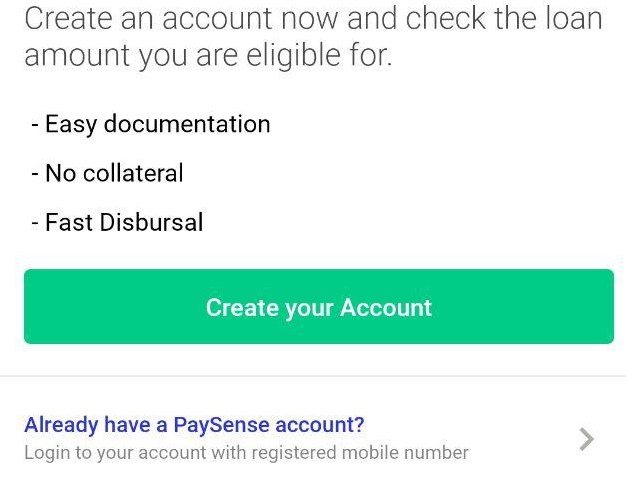 4) Click on Create account button, Now you have to enter your details such as Name, DOB, Gender, Mobile Number, Email, Employment details, PAN, etc
5) Finally, click on the submit button and it will verify your account with OTP.
6) You will now get a line of credit. Line of credit is basically the amount that Paysense will provide you after analyzing your details.
7) After this, you can choose the credit amount and EMI plan for repayment.
8) Upload your documents online for KYC.
9) You will be asked to sign a loan agreement.
10) Now, you have to fill a NACH form which will automatically deduct the repayment amount as per the EMI plan selected by you.
11) You will get loan approval within 2 hours.
12) After this, your loan amount will get credited into your bank account instantly.
PaySense Interest Rate For Loans
PaySense offers interest rates that range from 1.4% to 2.3% per month. This promotes easy EMIs for the customer. Alternate you can try Zest Money Loan App
How To Download Paysense App APK From PlayStore?
You Can Download Paysense Play Store App
Just Download & Sign up to get the eligible loan amount…
Important Information about Paysense?
Apply for a loan anytime and anywhere from the mobile application of Paysense. You can download the app from Playstore and for now, the app is available for Android users only.
Get an instant loan of minimum Rs. 5,000 and maximum Rs 5 lakhs.
Get instant loans in your bank account with quick approvals.
Completely online process.
Paysense will accept the documents signed by you through courier service.
You have to provide the documents only for once. In case you want the loan again, you can get it without any further documentation on just one click.
The loan is available for zero credit history users also.
Repayment has been made very easy by simple EMI plans.
You will get an EMI calculator on the website itself and you can choose the best plan for yourself.
No guarantors required and no hidden charges.
You can repay the whole amount only after 3 EMIs and there is a preclosure charge of 4% on the total loan amount.
The processing fees are 2.5%.
The very low-interest rate of 1.4 to 2.3% per month.
Paysense uses SSL technology to make your transactions and your data secure. So, you don't have to worry about the safety or security of your data and money.
Source: @Paysense
Fees and charges for PaySense short-term loan
Late payment charges: If you pay late payment then you need to pay a fee of Rs.500 + 18% GST = Rs.590 if an EMI is not paid on time.
Processing fee: Users need to pay a processing fee of up to 2.5% of the loan amount. The standard GST is also applied over the processing fees.
Foreclosure charges: Foreclosure of the loan can only be requested after the successful payment of the first 3 EMIs. The customer must need to pay an additional 4% charge on the principal outstanding at the time of foreclosure.
What Paysense offers To The Customers?
You can apply for a personal loan from Paysense for almost anything, whether it be an electronic purchase or for a vacation. There is no restriction for usage of the amount. You will get an instant personal loan on your fingertips. A salaried or a self-employed person can also apply for the personal loan to manage their expenses.
If you wish to get a vehicle but have a shortage of money, then you can surely apply for a vehicle loan from Paysense. You can get a loan to buy new and used cars as well as two-wheelers.
If you want to buy something for your personal use or for your house or for gifting purposes, you will get a loan for this also. With consumer loans, you can buy anything such as mobiles, cameras, laptops, TV, washing machine, and other consumer goods. Consumer loans also cover furniture, home décor, kitchen, and home appliances.
The other loans of Paysense cover loan for a marriage, parties, travel, medicals, house renovation, etc.
Paysense customer care number
paysense customer care number Mumbai, Hyderabad,  Chennai,  Pune, Ahmedabad, Contact Number
Email: support@gopaysense.com
Address: Jaivilla Dev Shakti, 49 Tilak Road, Navyug Colony, Santacruz West, Mumbai, 400054, Maharashtra, India
Note: Paysense does not have a customer care number. If you need any support regarding Paysense you can mail them on the above email address.
Remember do not call on any number which claims Paysense Support, This can be any type of fraud. Also, paysense never asks for any personal details or advance payment over call, Please we aware of this.
Paysense unbiased Review
Paysense has above 35 lakh customers all over India. According to them, the loan is provided within 5 hours max.  The customer support is very supportive. At last, I want to give my opinion on Paysense. I think no bank or financial firm provide loan to a zero credit-scored person, but Paysense does.
Also, the loan procedure is too lengthy. So, you cannot rely on banks in case of any emergency. Paysense, on the other hand, will provide you instant loans within 5 hours, so, you don't have to be worried about emergencies. For any further information and queries, you can comment below.
Business/Query: Info@indianhotdeal.com