PayTM First Membership Offers, Paytm First Membership Free, Paytm First Membership Promo Code, Paytm First Membership Benefits: Welcome readers! We are all in an era of internet and OTT streaming.  There are numerous OTT and live-streaming platforms.  But getting the subscription for all of them would be very heavy on our pockets.  Deep down we all want those subscriptions to be available to us for free. Don't worry I'm there for your help.  PayTm has come up with an amazing membership offer where you would be able to enjoy various OTT subscriptions for almost free. To know about this offer, be with till the end.
About PayTm First Membership: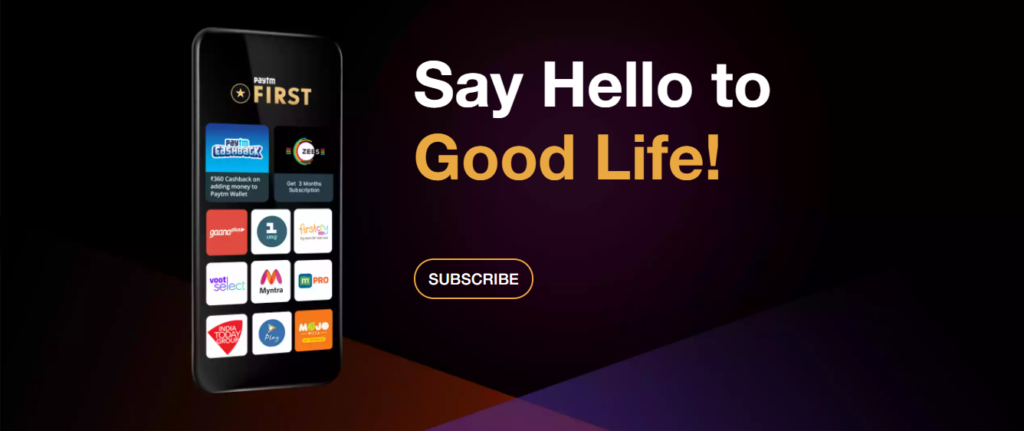 PayTm First is launching a premium plan which is a subscription based program.  The users get different types of rewards and other exclusive features.  PayTm premium will bring along loyalty rewards,  cashbacks, premium OTT subscriptions,  discount deals and much more.  PayTm is going to launch this on 6th March 2023. It would be available on Android devices on beta version.  Enjoy PayTm premium services for an entire year at a very low price. 
Benefits of PayTm First Membership:
Get free subscription of SonyLiv, Zee5, Viu, Eros Now and other OTT platforms. 

Enjoy Add money codes worth Rs. 180.

Unlimited free shipping on PayTm mall.

Every month get Rs. 100 cashback on movie tickets. 

Up to Rs. 6000 Uber benefits. 

Zonato pro membership. 

Discount coupons and deals for some renowned brands. 
Read: Zomato Pro Plus Membership FREE: Working Tricks (Jan 2023)
How To Get PayTm First Membership?
The original cost of the PayTm premium is Rs. 899. But don't worry we have several different methods to avail PayTm premium at extremely low prices. PayTM First Membership Offers.
PayTm premium membership worth Rs. 899 at Rs. 169 | PayTM First Membership Offers
Make sure your Paytm app is up to date. Open the app.

Click on the PayTm First premium logo. 

Tap on but PayTm premium membership option. 

A promo code of 25000 cashback would automatically be applied. 

Click on buy AMF pay the amount. 

You would instantly receive 25000 cashback points which is equivalent to Rs. 250.

Add Rs. 500 every month to get Rs. 30 cashback. Do it for next 6 months.

Pay bills of more than Rs. 100 and get Rs. 50 as cashback. Repeat for 6 months.  

Following these tricks,  the membership will cost you Rs. 169 only. 
PayTm Premium Membership Worth Rs.199 at Rs.19
Open the PayTm app and go to Paytm mall. 

Click on the Deal page and get the Rs. 109 deal. 

Click on PayTm First membership purchase icon. 

Choose the 3 months pack worth Rs. 199.

An instant discount of Rs. 99 will be applied automatically. 

Add Rs. 500 for next 3 months to get Rs. 30 cashback for each month. 

This subscription will cost you Rs. 19 only.