Advertisement

FRA vs TUR Dream11 Team Prediction Today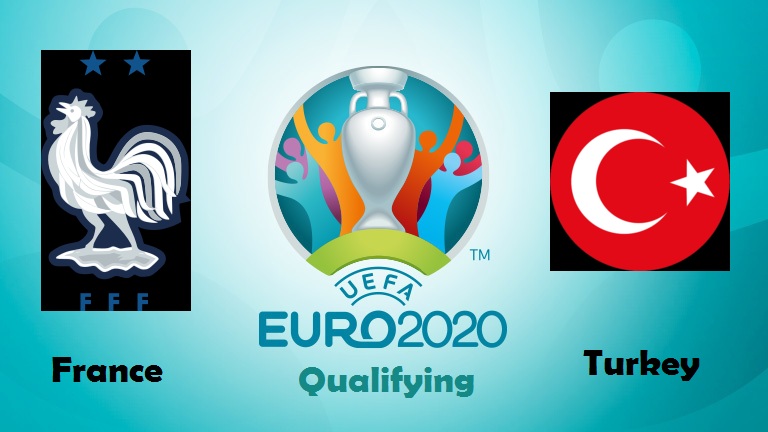 Subscribe IHD Fantasy Youtube Channel For Regular Fantasy Teams
FRA vs TUR PRE INFO:
France is hosting Turkey in today's Group H Monday night kickoff. Both sides are on the same point but Turkey is on top because they have beaten France in reverse leg. Both side will try to win to top the league.
Both sides are coming after winning 1-0 in their last matches, thanks to the goal by their start striker Giroud and Tosun.
Check Out: Top 35 Fantasy Apps To Play Fantasy Games
Join Our Telegram For 100% Winning Dream11 Team & News
---
Probable lineup FRA vs TUR Football Matches
France- (4-2-3-1)
Mandanda, Pavard, Varane, Lenglet, Hernandez, Tolliso, Matuidi, Coman, Griezman, Lemar, Giroud
Turkey- (4-3-3)
Günok, Celik, Soyuncu, Demiral, Merse, Tufan, Tekemedir, Kahveci, Calhonglu, Tosun, Yilmaz
Team News-
Lloris, Mbappe, Pogba all are out due to injury.
Kante got injured in the last match just before kickoff, so he is not expected to start here.
Key Players-
Griezman- Most important France player, last match he didn't take the penalty because he had missed last 2 penalties then also he is a very good cap vc option.
Giroud- As told in last article, he has very good international record and also he is taking penalties now. He should be your cap vc choice for this match.
Coman- Safest pick for the small league, because he can score and assist. For grand league try to pick Lemar.
Tosun– Everton striker, he is not having a good time there but for his national team, he starts. He scores frequently.
Match Prediction-
Generally, France plays defensively and that's evident from their stats that they have conceded the lowest number of shots on target in qualifiers, so we can expect them to keep a clean sheet as they are also playing at their home. But we should also keep in mind that turkey can cause problems as they have beaten France in reverse leg. I think this match can be 2-1 or 1-0 in favor of France.
Match tips-
As France is expected to keep possession then try to pick goalkeeper of turkey for small league team and pick more and more France players.
Check out: List Of Top 10 Fantasy Cricket Apps In India
Join Our Telegram For 100% Winning Dream11 Team & News
---
Dream11 Fantasy Match Prediction
Final Team Will Be Updated On Our Fantasy Telegram Channel
Join Our Telegram For 100% Winning Dream11 Team & News
Note: We have only updated Myteam11 and ballebaazi Teams
FRA vs TUR Dream11 Team Prediction Todays Match
Final Updated: BalleBaazi Team For FRA vs TUR ( Small League )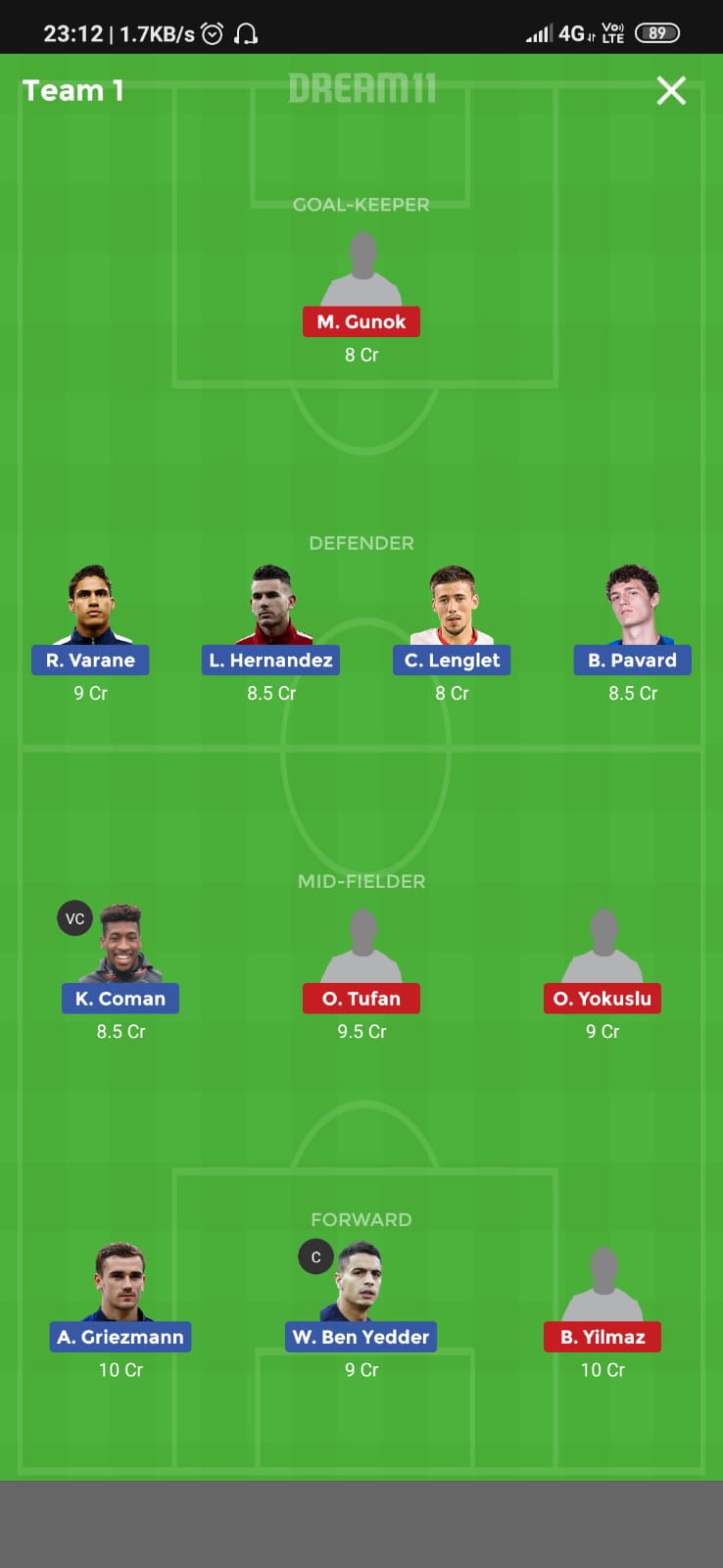 Download BalleBaazi App
FINAL Updated: FRA vs TUR Myteam11 Fantasy Football Team (H2H)
Download MyTeam11 App
FINAL: FRA vs TUR Myteam11 Fantasy Football Team (GRAND LEAGUE)
Note: We have only updated Myteam11 and ballebaazi Teams
---
FRA vs TUR Dream11 Demo team For Todays Match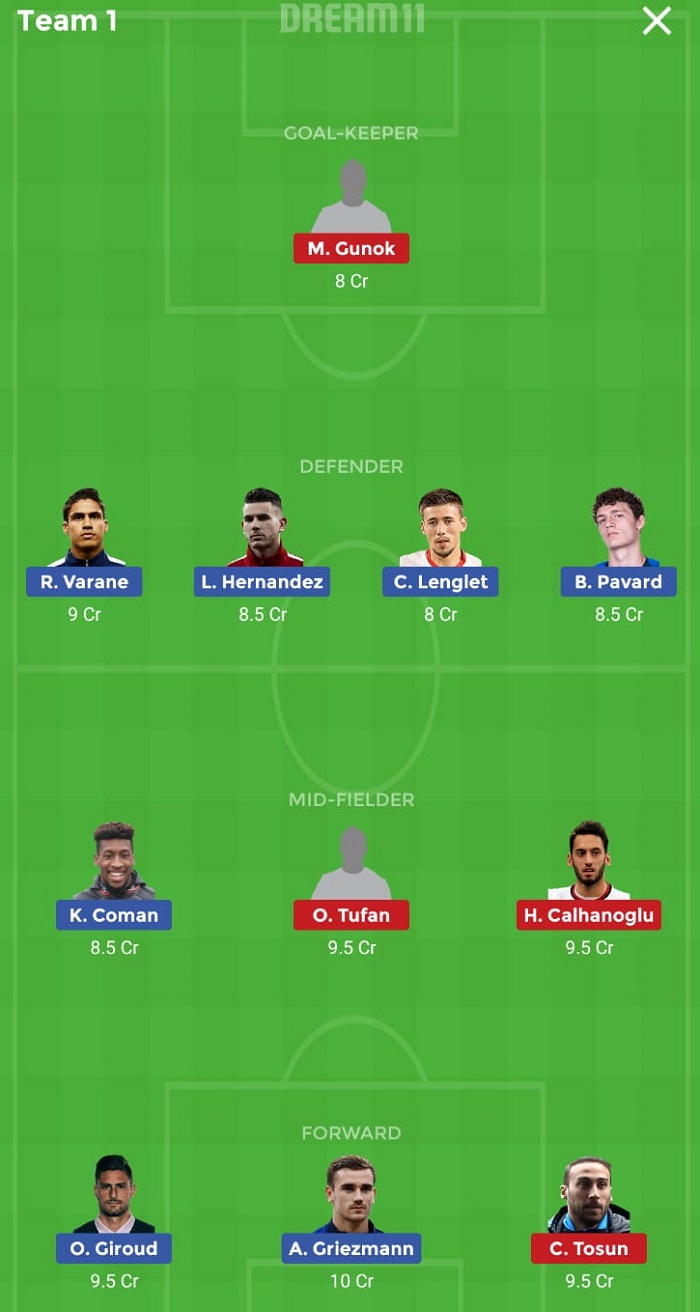 FRA vs TUR Dream11 Team H2H Leagues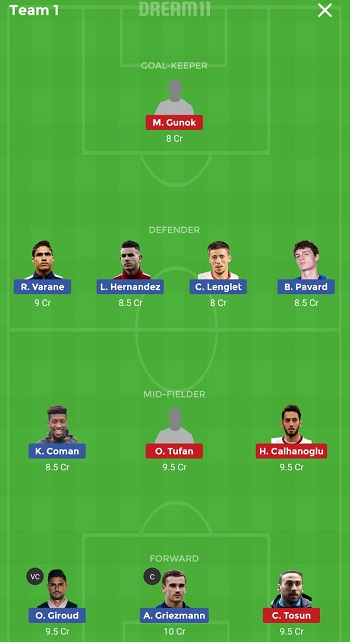 FRA vs TUR Dream11 Team Grand Leagues
Join Our Telegram For 100% Winning Dream11 Team & News
FRA vs TUR Prediction, FRA vs TUR Fantasy Dream11, FRA vs TUR Dream11 Team
Section: Fantasy Football, Dream11 Fantasy Football Teams, Dream11 Teams