Tata Neu Referral Code, TataNeu App Referral Code, Tata Neu Refer and Earn:  Tata Digital eventually launched its long-awaited mobile application called Tata Neu for all Indian users on 7th April. The Tata Neu mobile app provides a range of services, including Hotel Booking, Airline Tickets Booking, Grocery Items, Electronic Products, Mobiles, Fashion & Beauty, Food and Beverages, Entertainment, and many more things under one roof.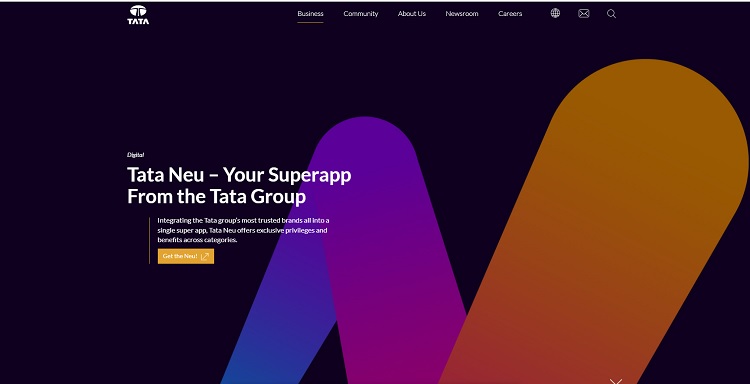 The mobile app also provides a broad range of Rewards and Discounts Offers on various products and services, making it a profitable feature for the app users. However, like other platforms, these attractive offers might be a short-term strategy to bring in more users to the Tata Neu app. In this article, we'll be going to discuss the Tata Neu app and its main features in detail.
Also Read: Wimo App Referral Code (0UUYC3): Predict IPL and Earn Real Money | Get ₹5 On Signup
What is the Tata Neu app? 
TATA Digital has finally launched its own "Super App" called Tata Neu app that comes as an integrated service for payments, shopping, booking flights tickets and hotels, food delivery, paying bills, and much more. The Tata Neu app comes into competition with other platforms like Paytm, Amazon, Reliance Jio, etc. which also offer the same purposes.
The Tata Neu mobile app facilitates all these services through Tata's ventures such as payments through Tata Pay, food delivery facility through QMin and Starbucks, online shopping through TataCliq, grocery delivery facility through BigBasket platform, hotel booking via Taj Hotels, flights tickets booking through Air Asia and much more. The mobile app has been launched for both Android and iOS users and they can easily download the application from Google Play Store and Apple App Store. Tata Neu app comes as a great alternative to other online shopping and online-based services apps like Paytm, Amazon, Flipkart, etc.
Also Read: OneCard Referral Code 2022| India's Best Free Credit Card
Main Highlights of Tata Neu App 
Some of the salient highlights of the Tata Neu app are as follows –
The biggest and most obvious difference between the Tata Neu app and its rival platforms is that all the services provided in this app are tied to existing Tata products whether it is flight booking, food delivery, online shopping, or payments service.
The ease of finding all the services in one place from trusted entities in their relevant categories is one of the major factors that will grab people's attention to use the Tata Neu app once.
The app presently provides many amazing deals and discount offers under each category for newly-registered users.
The TATA Neu app also provides a Reward Points system for every purchase on the app, which is quite similar to Flipkart's Super Coins. It is called "NeuCoins" where the users will earn some points every time they purchase the app.
Users can also instantly sign up to make payments through the Unified Payments Interface (UPI) by clicking on the Send Money button.
Tata Neu app has also partnered with Bharat Billpay, which allows you to pay your broadband, electricity, piped gas, landline, mobile postpaid, and water bills. It also supports the DTH and Mobile Recharge (Prepaid) facility on the app.
How To Download And Register on The TATA Neu app? 
To register yourself on the TATA Neu app, simply follow these steps –
Download the TATA Neu app from your Google Play Store or Apple App Store and install the application on your Smartphone device.

Advertisement

After that, open the TATA Neu app and click on the Let's Start button.
Now, enter your Mobile Number on the app and click on the Get OTP option.
A 6-digit OTP will be sent to your registered mobile number to verify your mobile number. Enter the OTP and click on Submit option to proceed to the next step.
Now, enter your details like Your First Name, Last Name, and E-mail Address, and then click on the Let's Go option.
After that, your account will be created on the Tata Neu app, and the main dashboard will open on your Smartphone screen, where you can check the latest deals and discount offers. Also, you can explore different sections on the app like Grocery, Mobiles, Health, Fashion, Hotels, Entertainment, etc. 
How to use the Refer and Earn feature on the Tata Neu app? 
TataNeu App Referral Code: There is a Refer and Earn feature on the Tata Neu app through which you can earn lots of exciting rewards on the app. When you refer the app to your friends or family members, then you can earn real rewards in the form of NeuCoins, which can be further used to purchase any other products or services on the app. You can share the referral code with up to 5 people. TataNeu App Referral Code
To use the Refer and Earn feature on the Tata Neu app, follow these simple steps –
Open the Tata Neu app and click on the menu icon present in the top right corner of the app.
On the Main Menu list, click on Refer A Friend option to use the Refer and Earn feature.
After that, click on Refer Now button to share your Referral Code with your family members and friends.
Now, enter his First Name, Last Name, and Mobile Number from which you want to share the Referral Code and click on the Invite option OR you can directly share the referral code to those in your Contacts List.
Now, copy the referral link and share the referral link on Whatsapp and other social media platforms.
Once the user signs up on the Tata Neu app with your referral code, you'll get up to 500 NeuCoins, and your friend will get 200 Neucoins.