Advertisement

The Indian Premier League, or IPL, is a massive cricket tournament organized by the Board of Control for Cricket in India, where the world's best players compete for teams that cost crores of rupees. The popularity of fantasy and online cricket games has surged after the introduction of applications such as Dream11 and My11circle. The Indian fantasy sports sector is expected to reach $2.5 billion in 2022, according to a Ficci-EY analysis.
The sector is estimated to be worth $3.7 billion by 2024, increasing at a CAGR of 32%. According to a report conducted by the Federation of Indian Fantasy Sports in partnership with KPMG, the fantasy sports market is currently producing earnings that no one could have predicted during the Super Selector period.
Comes IPL season, people wonder how to make money in an easy and fun way. So, if you too want to know how to make money with IPL, we have great news for you!
If you enjoy cricket and have a solid understanding of the game, you may use your expertise to earn money from the IPL on Probo by sharing your opinions about different IPL matches. Use IPL22 to get Rs.25 as Sign Up Bonus on Probo. How does this work? Keep reading to find out.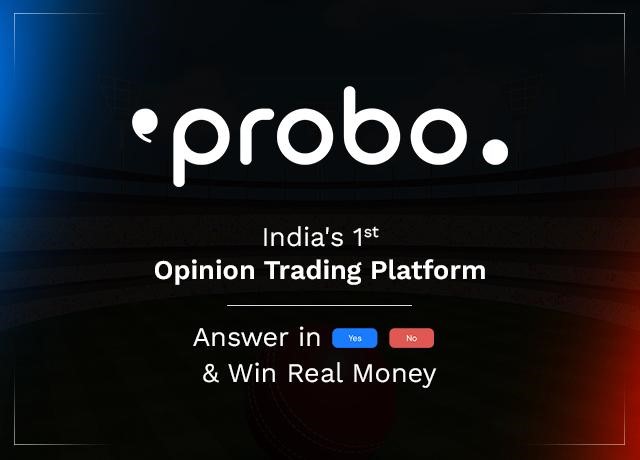 Understanding What Is Probo & How To Win Money During IPL Using Probo
Probo is an opinion trading platform where you can answer cricket match-related questions (Even IPL) and win money for each successful prediction. More than 25 lakh individuals in India use the app, and the number is only growing. Probo is a homegrown opinion trading platform that aims to enable its users to get returns on their opinions, in a safe and fun manner.
While you may be familiar with other Fantasy league applications such as Dream 11 and MPL, we thought we'd introduce you to something new for a change.
Probo is India's first opinion trading platform that allows you to share your opinions in the form of predictions for a variety of categories like Sports (Cricket, Football, Tennis, and so on), Cryptocurrencies, News, Weather, Finance, and Entertainment (Bollywood & Hollywood Releases, OTT Releases, Youtube subscribers & views).
To get started, you can just download the 'Probo' app from the link below:
Or, alternatively, follow these steps to download the Probo app from the website:
Step 1: Download Now 'Probo App.
Step 2: On the home page, click the 'Download App' option.
Step 3: Click 'OK' to finish your download.
Step 4: Grant 'Allow From This Source' permission.
Step 5: Congratulations! You are now ready to begin using Probo.
When it comes to opinion trading, you have a pretty easy and straightforward approach. You'll discover hundreds of event questions about a given topic, and all you have to do is respond Yes or No depending on your knowledge and research.
Let's look at an example to better grasp this. We'll assume you're interested in IPL predictions. On an opinion trading platform like Probo, you will find a plethora of event questions based on IPL matches, such as:
Will Rohit Sharma score 500 or more runs in IPL 2022?
Will Lucknow or Ahmedabad win the IPL 2022?
Will Virat Kohli score a century in today's match?
What you do here is simply share your opinions in the form of predictions, and you earn money based on the actual outcome of the event. Yes, you read that correctly. Rather than simply sharing your valuable opinions and predictions with your friends and family, you can now trade them for real money. What's the best part? When you win from your Probo predictions, you may withdraw your profits instantaneously using UPI.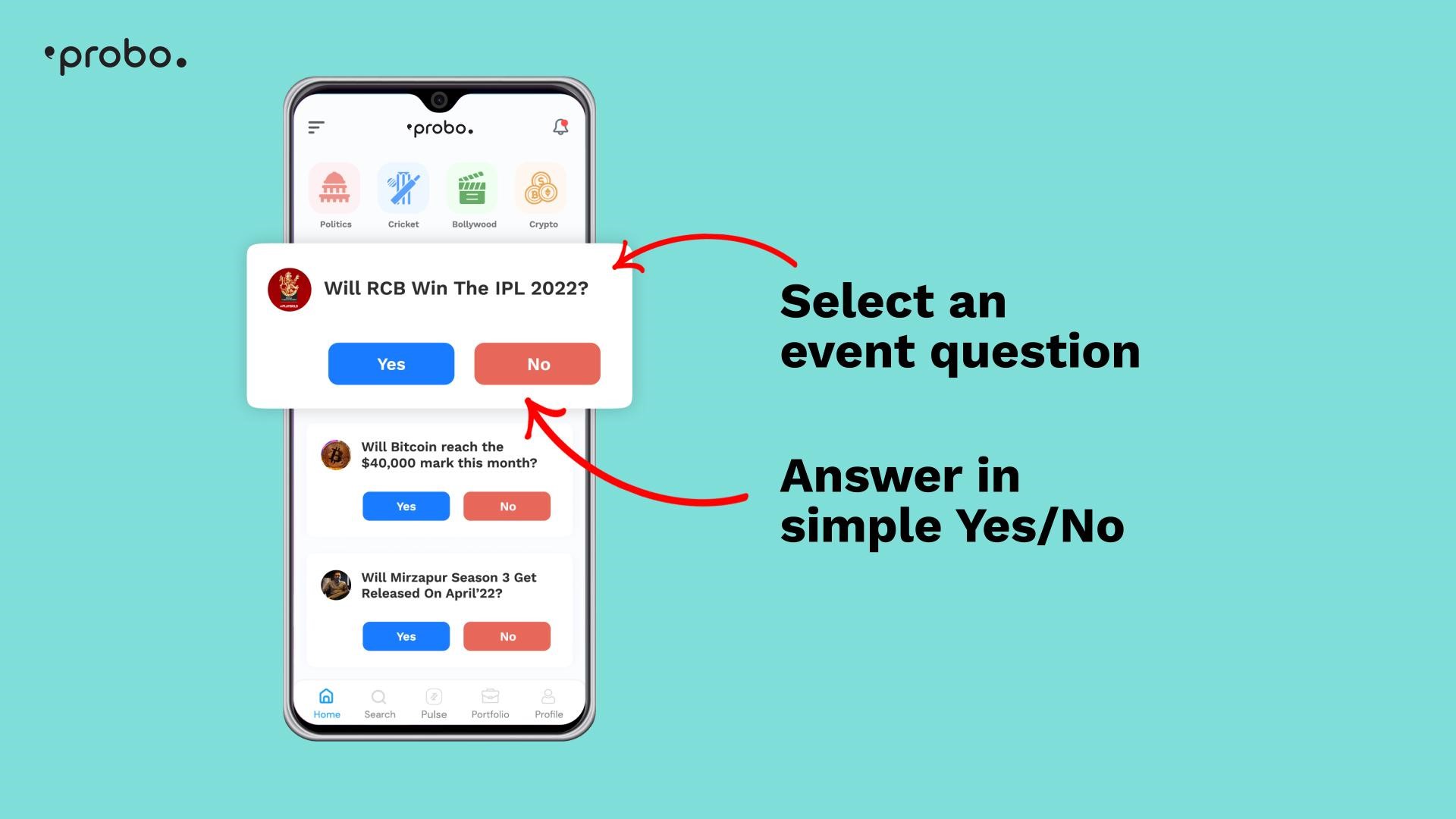 How to Trade Opinions On Probo For IPL Matches?
To start trading your opinions on cricket matches, including IPL matches, follow these steps after completing the sign-up process.
Step 1: Explore the cricket category (You will see tags such as IPL here)
Step 2: Find hundreds of cricket (even IPL) based event questions
Step 3: Share your opinions/ predictions by selecting 'Yes' or 'No'
Step 4: Decide the price and quantity you would want to invest
Step 5: Submit your opinions and wait for the event outcome
How Do I Get a Probo Bonus?
When you finish the sign-up procedure, you will receive Rs.25 in your wallet as a sign-up incentive (Use IPL22). This is to be treated as promotional money that you may use to start trading answers and gain actual profits.
Furthermore, you may invite your friends by giving them a referral code. When your friends join Probo and make their first trade, you will each get Rs.25 as a referral incentive.
How Do You Withdraw Your Probo Earnings (Profits)?
Withdrawing your profits from Probo is really easy, as well as completely safe and private. Follow these procedures to withdraw wins from your Probo account:
Step 1: Create a 'Pro Account.' On the app's 'Top Left Corner'
Step 2: Select the 'Withdraw' option.
Step 3: Enter the 'Amount' you want to withdraw.
Step 4: Choose your 'UPI' account.
Step 5: Select 'Withdraw'.
Step 6: Congratulations! You can now enjoy your profits.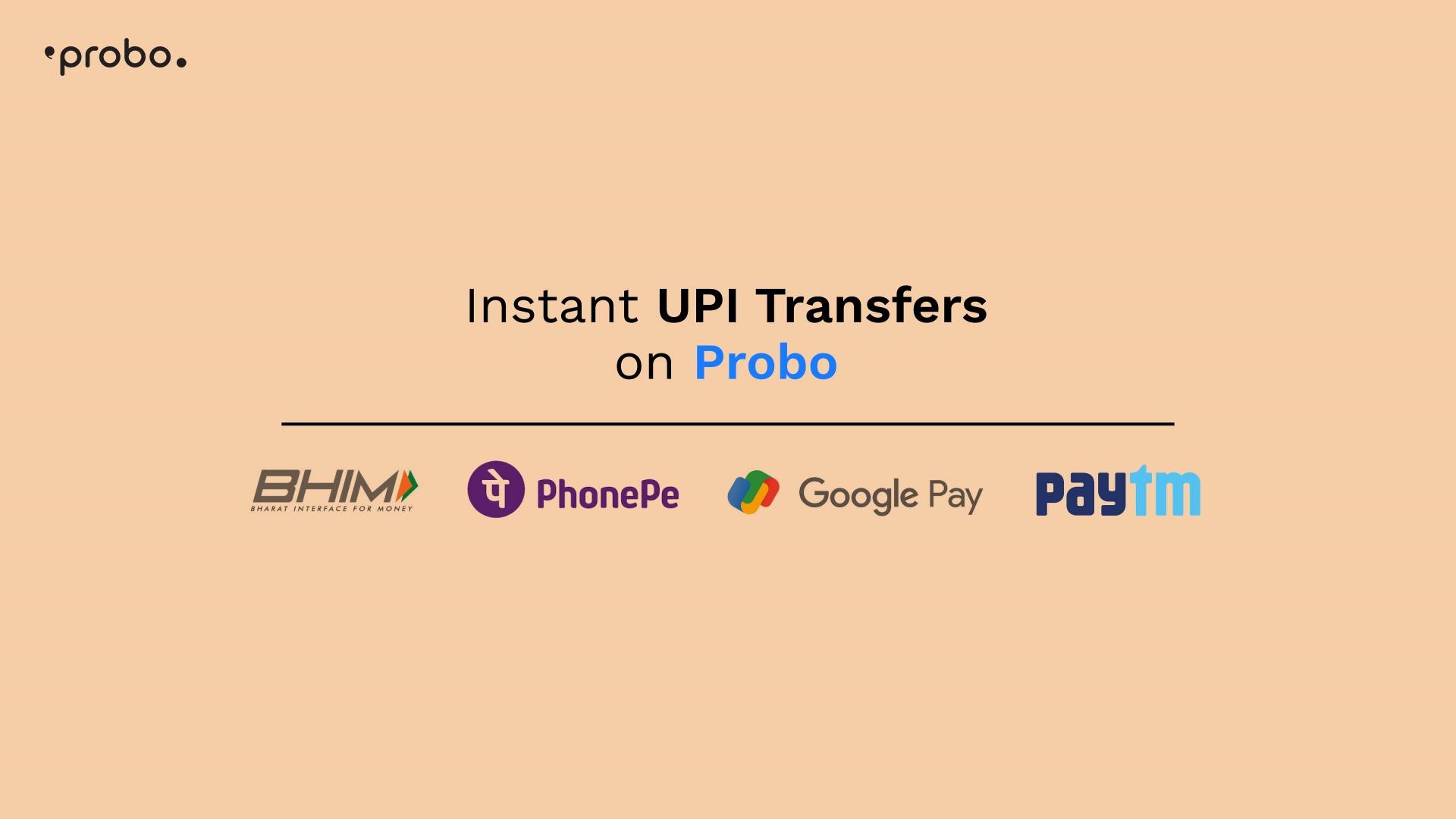 To be successful in opinion trading, traders must become experts in the specific category or businesses in which they are engaged. You may also observe how market attitudes shift overtime for the same event, altering trade prices. With time, you'll have a good concept of how to go ahead with trading your opinions, what insights you need before making a choice, and what lessons you've learned from past trades on event questions.
Bonus point: Staying updated with news, educating oneself, attending industry seminars and workshops, and conducting comprehensive research may all assist!