Advertisement

Airtel UPI Refer & Earn Program: Rs.250* On First BHIM UPI Transaction
Airtel UPI Refer & Earn: Do you know that you can make money through Airtel App by performing simple tasks on the app? The latest offer by this platform is allowing you to get Rs.75 on cashback upon the first transaction you make. Some of the exciting features that you can use in this platform to make money include the following.
Join Our Telegram Deals Channel – Save Money On Online Shopping
Airtel has introduced a new referral program that allows postpaid users to earn cash. As a user, when you refer a family member or a friend to the airtel network you will be rewarded with cash prizes.
Join Our Telegram For 100% Loot Deals Offers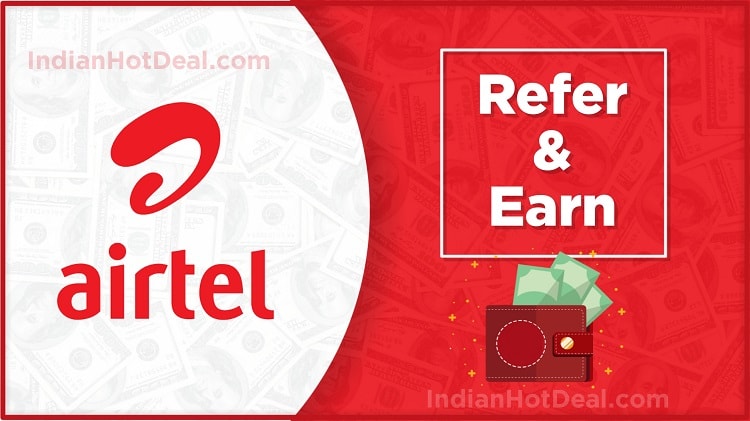 All About Airtel UPI App, Referral Program & Invitation Link
If you participate in this program, as a postpaid user, Airtel Company will give you a discount of Rs. 150 on all your bills. This means for any individual you refer to the program you are going to be credited with Rs 150 too. Download MyAirtel App, Do the first transaction and earn up to rs.250.
To invite people you will get a unique referral link in the program which you need to send to your friends and family. To generate your special link, while in the app, click notification where you will be provided with a referral scheme.
Checkout: How To Open Kotak 811 Saving Account Online In 90 Second
Telecomtalk reported that generating a link is limited for those individuals using the mobile application while writing. If you are interested in this program, you can use three steps to get a referral. The discount of Rs 150 will be credited to you in three batches of Rs 50. These coupons of Rs 50 are added to your Airtel wallet 24 hours after your friend or the person you have referred activates Airtel postpaid.
Advertisement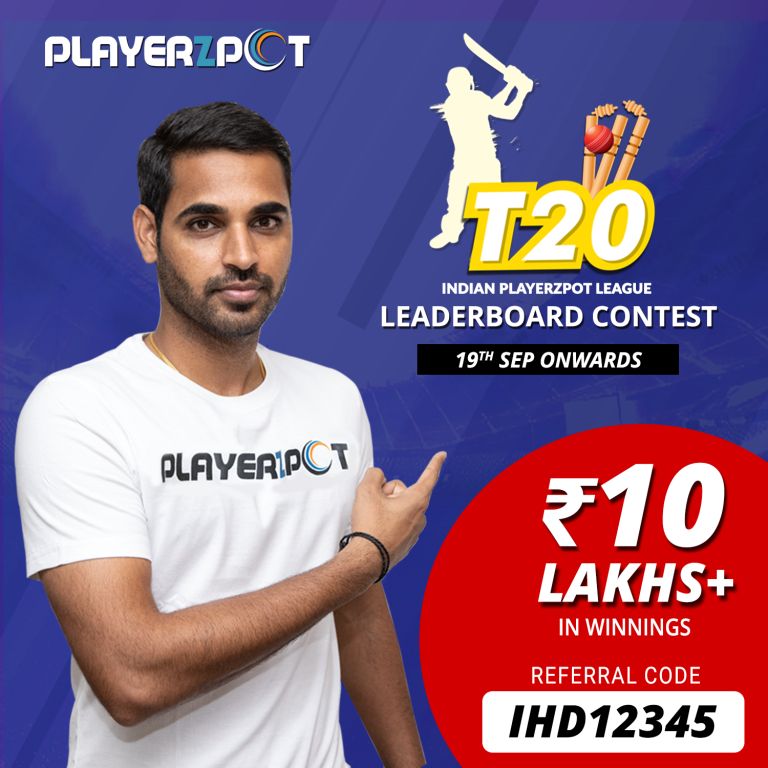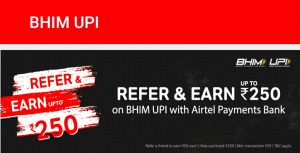 Steps To Earn Rs.50 From Airtel UPI Referral Program
First Of All, You Need To Download My Airtel App
Download & Open my airtel app
Go To App And Register For BHIM Airtel UPI 
Create New Airtel UPI ID ( if you already have one ignore this step)
Now, Set UPI Pin & Virtual ID on #MyAirtel App
Pay for anything or send money using your Airtel UPI
Note: Minimum transaction should be Rs.50 to get cashback from airtel upi Refer & Earn Program
After the transaction, you will receive rs.50 In your Airtel Wallet
Join Our Telegram For 100% Loot Deals Offers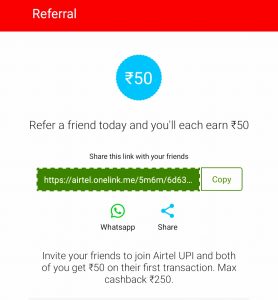 How To Invite Your Friend On Airtel UPI Refer & Earn Program?
1. The first thing you are supposed to do before thinking of getting your friends into this program is to get My Airtel app from the app store of play store for android users.
2. Now open the app and click the notification area. Here you will get a referral scheme. When you click on the referral scheme, you will be redirected to the link generation page.
3. After that, you need to share the generated Airtel UPI Referral link with family members and friends
4. Whenever someone clicks on your link and finishes the whole registration process, the airtel executive will be sent to complete the activation of the Airtel postpaid program.
5. After 24 hours of registration of your referee, you will both be credited with a discount bill of Rs 150 into your My Airtel wallets.
Join Our Telegram For 100% Loot Deals Offers
Check Out My Latest On Refer & Earn Programs:
Airtel UPI Refer & Earn: Terms & Conditions
Get Rs 250 through BHIM UPI Referral Program on Airtel Thanks App.
Offer Period- 21st August 2019 00:00 hrs to 30th September 2019 23:59 hrs
Referrer- Person who is already an Airtel UPI customer and is referring to a new customer.
Referee- Person who receives the referral link and signs up for Airtel UPI for the first time.
Offer is applicable to Airtel UPI customers who are referring other customers to register for Airtel UPI and the customers who are registering for Airtel UPI for the first time using the referral link.
The referee will earn Rs 50 cashback on completing 1st UPI transaction through the link shared by the referrer.
Referrer will get Rs 50 when the referee completes the 1st UPI transaction through the link shared by the referrer.
Min transaction to be done by the referee is Rs 50.
Cashback will be credited within 3 working days in Wallet for Airtel Wallet customers OR Saving Account for Airtel Saving Account customers.
If the customer doesn't have an Airtel wallet or Airtel Savings Account, then the customer will be given 30 days to create a wallet or savings bank account.
Eligible transactions to be done by referee include sending money, approving a collect request, paying money to Airtel and non-Airtel Merchant using MyAirtel App.
If Referee has done a UPI transaction using MyAirtel App in the past, then the referrer will not be eligible for a cashback.
A referee can further refer other customers to register for Airtel UPI and act as a referrer.
Under this offer, both referrer and referee can earn a maximum for Rs 250 cashback during the offer period.
The referee will get cashback for sending money or approving a collect request using BHIM UPI on MyAirtel App for the first time ever in the offer period.
Referrer will be eligible to receive the cashback if the referee performs the transactions in the offer period.
The referee will be eligible to receive the cashback if he/she registers for Airtel UPI for the first time in the offer period.
Offer valid from 21st August 2019 00:00 hrs to 30th September 2019 23:59 hrs
Airtel Payments Bank reserves the right to disqualify any Airtel Payments Bank user(s) from the benefits of this offer in case of any fraudulent activity/suspicious transactions.
Airtel Payments Bank also reserves the right to discontinue this offer without assigning any reasons or without any prior intimation whatsoever.
For further details, please send your queries to [email protected]
Join Our Telegram For 100% Loot Deals Offers
FAQ's (Frequently Asked Questions)
Is There Any Maximum Cap On Referring?
The number of people you are required to share your referral code is not limited. However, the company will award you up to your tenth successful referral.
Is There Any Bounding On Usage Of Discount Coupon Codes?
Another important thing to know about the discount coupons is that as a member of this platform you are only restricted to paying your postpaid bills using the awards you get. Both the referrer and referee can pay their postpaid bills in this form.
Can I Do Recharge On Any Mobile Number Using The Discount Coupons?
No! Only bills of registered numbers can be catered off by the use of these coupons. You must be a registered user with My Airtel app to be a member of the platform.
Can A Airtel Prepaid User Loot This Offer?
No! Only Airtel Prepaid users are allowed to loot this offer.
Final Words On Airtel UPI Referral Program
We can conclude that there are several programs that you can use and earn simple rewards. One of these apps is My Airtel program that has been developing over years offering several earning programs.