Indian National Cricket Team Players
Cricket is a game that is played between two squads. Each squad has 11 players in it. The team with maximum scores won the match. Cricket is played in three formats i.e., Test matches, One day Cricket (ODI) and Twenty20.
Indian cricket team has ranked first in the test, fourth in T20, and second in ODI as of February 2020.
The current captain of all formats of cricket is Virat Kohli. And the team is headed by coach Ravi Shastri.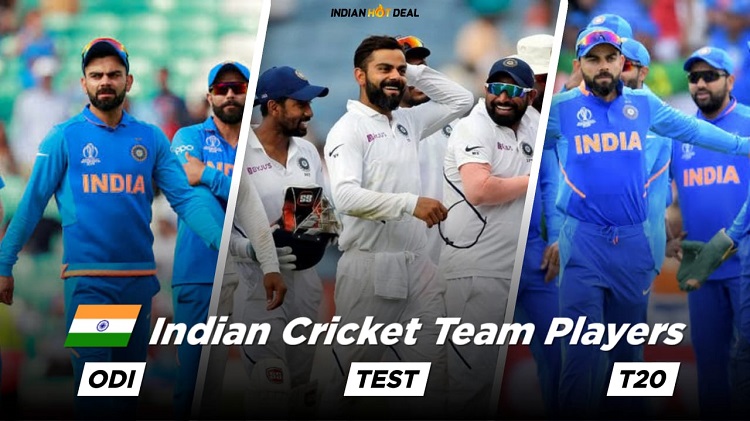 Cricket is a game that has the most fans all over the world. There are many apps developed now to watch live matches on your mobile phones.
Must Read-
Here are some details of the Indian Cricket team for different formats of cricket played.
India's T20 Player List:
Twenty20 is a cricket match which is played between two teams. Each team has 11 players. T20 is performed for 20 overs per innings. In t20, each bowler can bowl for a maximum of 4 overs. The T20 squad of India consist of the following players:
Virat Kohli (captain)
Shikhar Dhawan
KL Rahul
Shreyas Iyer
Manish Pandey
Sanju Samson
Rishabh Pant (wicket-keeper)
Shivam Dube
Yuzvendra Chahal
Kuldeep Yadav
Ravindra Jadeja
Shardul Thakur
Navdeep Saini
Jasprit Bumrah
Washington Sundar
India's ODI Player List:
ODI stands for One Day International. These matches are of limited overs. The game is played between two international teams. The ODI match lasts for approximately eight hours. Each bowler can bowl for ten overs maximum. The present squad of India for ODI is:
Virat Kohli (captain)
Rohit Sharma (vice-captain)
Shikar Dhawan
KL Rahul
Shreyas Iyer
Manish pandey
Kedar Jadhav
Rishabh Pant (wicket-keeper)
Shivam Dube
Ravindra Jadeja
Yuzvendra Chahal
Kuldeep Yadav
Navdeep Saini
Jasprit Bumrah
Shardul Thakur
Shami
India's Test Match Player List:
Test cricket matches are the longest matches in which the game is played between two teams. It is a five-day event. Every day there are three sessions of about 90 overs. The teams wear a white jersey for test matches. There is no limit to the overs for each bowler. The present players of Indian test match are:
Virat Kohli (captain)
Mayank Agrawal
Rohit Sharma
Cheteshwar Pujara
Ajinkya Rahane (vice-captain)
Hanuman Vihari
Rishabh Pant (wicket-keeper)
Wriddhiman Saha (wicket-keeper)
Ravicharan Ashwin
Ravindra Jadeja
Kuldeep Yadav
Mohd Shami
Jasprit Bumrah
Ishant Sharma
Shubham Gill
---
Join Our Deals Telegram Channel for Instant loot deals and cashback offers. Join our Fantasy Telegram Channel for instant cricket updates and dream11 teams. You can also read our Top 40 Fantasy Cricket Apps to play fantasy cricket in India. You can also have a look at Top Poker Apps and Top Rummy Apps in India to earn real cash. If you need any type of online loan then have a look at Top Online Loan Apps In India.