Brawl Stars Game Download
Accessibility and convenience are mantras nowadays. To be able to play online games on smartphones is the off-shoot of accessible and convenient lifestyle. Keeping this idea in mind, Supercell – a video game company, developed and launched a freemium mobile game called Brawl Stars on December 12, 2018. This interesting real-time combat mobile game is based on the formula of team-based multiplayer shooters strategy.
The players are pitted against each other, and they have to manage their 'brawlers' which they choose and select while playing the game- popularly known as MOBA (multiplayer online battle arena). Being Android and iOS friendly makes this game a favorite one among gamers worldwide.
As a player, the goal is to fight against the opponent team and teach them a good lesson. Usually, two teams consisting of 3 players battle against each other, interact, and encounters. As Supercell heavily relies on monetizing its games, Brawl Stars does follow the same regime. The world of wonders like Coins, Tokens, Tickets, and PowerPoints can be earned. The leading currency is Gems can be purchased in the game, and a player may have to fork-out cash to buy a Gem.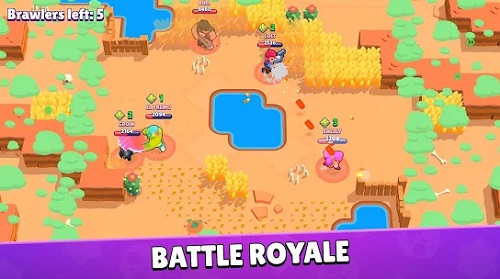 How To Download Brawl Stars For Android
As understood, this game becomes real and competitive with trophies, pairing, and teaming that happens during the play. To play this game, let's see a fairly simple process to download it. Go to App Store for iOS and Google Play for Android devices to install the game. If the download fails, follow the below steps:
Step 1: Go to Settings and locate Application.
Step 2: Select Google Play and press on Clear Cache.
Step 3: Force stops the running app and then reopen Google Play.
Step 4: The game will download and install on the mobile device.
The game is easy and doesn't require prior practice. Because it is on a mobile device, the navigation of characters can be done using one finger, provided the device is placed in the vertical position. The touch-functionality of the smartphone is enough to meander through this game. Just touch and move your finger on the screen to move the characters and fire away effortlessly. As the game features different modes, the aim is to wipe out the enemy.
A little trick can help to gain an edge on this game- try leveling each of the brawlers as this increases the trophy count and unlock rewards in no time. Instead of focusing on one brawler where the chances of losing the game and the trophies are higher, pay attention to each one of the brawlers.
You may also like-
Final Words
There is nothing wrong with hiding behind the bushes, use the time to get more collectibles and don't jump on the first rival immediately. Make the team with your friends as it is critical to play with someone familiar to formulate winning strategies.
Brawl Stars is all about casual fun and enjoyment- addictive. It's nicely crafted for smartphones, has easy controls, consists of a plethora of characters, devices, colorful brawler classes, and visually appealing graphics.