MoneyTap App: Are you a student and want a loan for your college fees? Do you want to start a business and want a loan amount immediately? For an instant loan amount, MoneyTap is the best option. MoneyTap allows you to get Money on a Tap. It is a very fast method for getting an instant loan amount in your bank account.
Try: Top 10 Best Online Loan Apps In India To Get Instant Real Cash
MoneyTap can be applied for almost anything. There are no restrictions for its usage. The loan can be applied for self-employed, small and large businesses. In case of emergencies, MoneyTap is a great option as the loan process is very fast and there are very fewer documents required.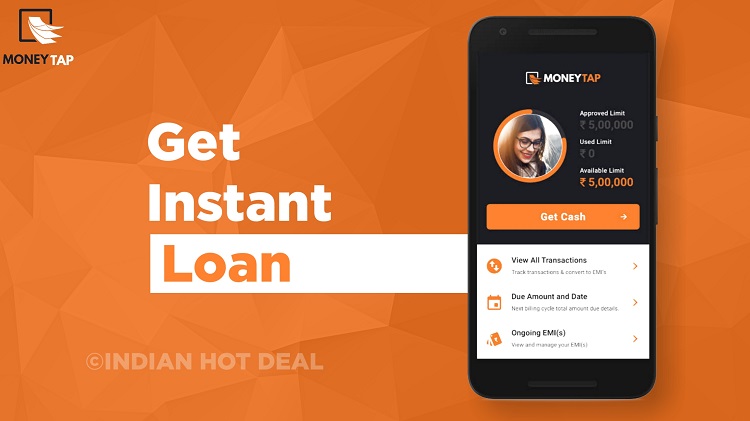 MoneyTap App Key Features:
It is a Bangalore based startup under Fintech launched in 2016.
A very fast and flexible method of getting a loan.
One can now apply for a loan from the mobile application of MoneyTap. Download the app and get money on your fingertips.
Get money on tap.
The loan amount is approved instantly.
You can get credit up to 5 lakhs.
The interest rate of MoneyTap is only 13%.
EMIs are available for 2 to 36 months.
Loan processing fees are also very low up to 0.5% of the amount.
The loan tenure period is of about 3 years.
Completely digital and paperless process.
You need to pay the interest only upon the amount you have used from your credited loan amount.
If you are not using the credited amount, no need to pay any interest.
The minimum credit amount is Rs. 3000.
MoneyTap allows you a credit limit of a lifetime. So, you can withdraw multiple times.
MoneyTap does not ask for any collateral or guarantors.
It asks for a credit score above 700 only.
MoneyTap provides various rewards to its users on food, entertainment, and travel.
You can use MoneyTap for anything, like, marriage, travel, business, education, medical, electronics, vehicles, and many more.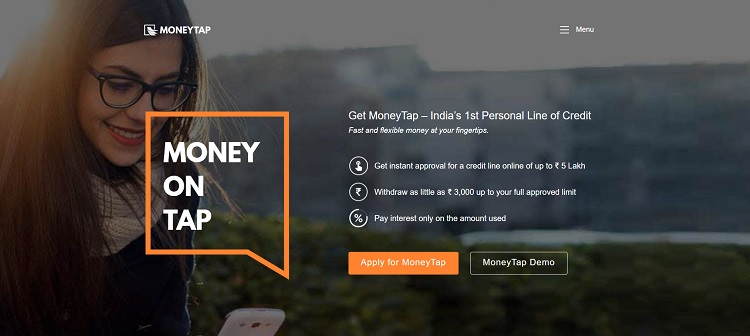 Eligibility Criteria To Get Instant Loans From MoneyTap App
Anyone who meets the following criteria can apply for a loan in the MoneyTap app.
One should be above 23 years of age and should a citizen of India.
A minimum monthly salary of Rs. 20,000 is required
Must Be salaried or self-employed
MoneyTap Interest Rates
Every time you withdraw cash or use the card, the interest rates, and fee structure will be visible to you in your app dashboard. Pay your repayment on time to avoid late payment charges.
In MoneyTap interest rates are 15% to 18% annual. Also whenever you withdraw money through the MoneyTap app you need to pay 2% + Service Tax as Processing Fee. If you do not pay your monthly bills on time, then you need to pay Late payment fee – 15% on the amount due as a penalty charge.
Required Documents For Applying For The Loan
Aadhaar Card
Pan Card (mandatory)
Your Company Name, Company email address
Net Banking login information for your salary account
How To Apply For Loan In MoneyTap:
Download the MoneyTap mobile application.
Register yourself under the MoneyTap app by providing the credentials asked.
Fill your name, age, address, PAN number, and income details. With these details, you will get your credit line which will describe your eligibility for the loan.
You require a few documents such as valid address proof, ID proof, PAN card, Company name, and Email address.
You will receive a pre-approved line of credit amount.
Then a KYC visit of the registered banking partner is scheduled by MoneyTap at your provided address. You have to submit your KYC documents for the final approval of the loan.
After final approval, you can use your credit line to borrow any amount between 3000 and your approved limit. Apply for the loan anytime and anywhere.
You can repay the loan amount in easy EMIs.
You can get your EMI and transaction details from the mobile app itself.
Why Money Tap Is Better Than Other Loan Apps
Below are some of the reasons which make MoneyTap better than other online loan apps.
Total Flexibility
You can borrow as little as ₹3,000 up to your approved Credit limit, anywhere, anytime – no questions asked
No Usage = No Interest
We don't charge interest on your entire Credit Line but only on the amount you use.
Flexible EMI
Choose an EMI tenure that suits you best, it can range from 2 – 36 months, and repay with just one tap
Money for Life
Whenever you repay EMI, your Credit Line gets recharged with the same amount. You can borrow money multiple times without extra paperwork which makes MoneyTap better than others.
Use as Cash or Card
Your credit line, your choice. Transfer money to a bank account or use it as a credit card with reward points.
Money Tap Customer Care Details
Email: hello@moneytap.com
Type Of Loans Available On MoneyTap App
Whether it's for wedding expenses, education fees, medical emergencies, a vacation, or a little indulgence; MoneyTap provides all types of loans. Some of the loans which are available on the MoneyTap app are below mentioned.
Marriage Loan, Travel Loan, Medical Loan, Education Loan, Vehicle Loan, Laptop Loan, Two Wheeler Loan, Mobile Loan, Home Improvement Loan, Durable loan, Debt Consolidation Loan
You May Also Like-
Final Words
Being a personal user of MoneyTap, I can surely assure you about the authenticity of it. Also, the procedure of loan approval is very fast and easy. This digital platform will help you in your emergencies and you need not worry about the long paperwork procedures. You can check the experiences of other MoneyTap users also and you will be happy to see the results. According to them, it is a very easy and hassle-free process with instant IMPS transfers. It is very easy to get access to all your transaction details. You can get a demo of MoneyTap from the website, i.e., www.moneytap.com. Do give it a try and get a loan anytime and anywhere through your mobile.
For any queries or suggestions regarding the MoneyTap app, you can comment below.
Don't wait! If you are in need of some urgent cash you can apply for Loan in MoneyTap app without thinking twice.
Also Join Our Facebook Group For More Deals & Offers, Follow Author On Instagram
Business/Query: Info@indianhotdeal.com