Advertisement

MyTeam11 Owner Name, Turnover & Brand Ambassador
Myteam11 is the e-sports app for those who are crazy about sports and want to show their talent and who to have the best virtual gaming experience. A fantasy sports app with different modes to play like a free contest, cash contest, tournaments, etc. for several sports. As mentioned, cash contest means here, and real money is used. Participate, play and win the fantastic cash prize.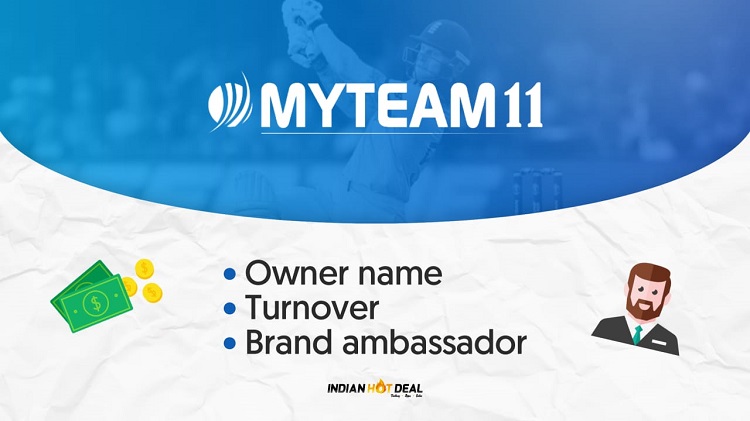 Must Read- Top 40 Fantasy Cricket Apps Lists To Download & Win Real Cash Daily
Founders Of MyTeam11 App
In February 2016, the pillars of this fantastic company were laid by Mr. Sanjit Sihag and Mr. Vinit Godara.
Mr. Vinit Godara is the CEO and the Co-founder of Myteam11. A B.Tech graduate who completed his degree in automobile engineering had a great passion for sports and gaming. So to live his dream of games, he clubbed with Mr. Sanjit Sihag and brought up the existing leading fantasy sports brand "Myteam11".
Download MyTeam11 App
Mr. Sanjit Sihag is the COO and the Co-founder of Myteam11. To follow his dreams and passion, he broke his family legacy of joining the Indian Army and went to do graduation in B.Tech from the University of Jaipur. His career began as a Social Media Manager, but since a 9-5 job was not of his type, he left it and went for something that gave him satisfaction "Myteam11".
With passing time family of Myteam11 started becoming large. In April 2017, Myteam11 had 3 lakh users. In September 2017 made the thriving organization of Karnataka Premier League as an official partner with an increase in several users December 2017 from 3 lakh users to 2.5 million users. With the passing time, Myteam11 kept on growing to add new features to itself, and now it is the second fastest and leading fantasy sports company with 15 million+ users.
Turnover Of MyTeam11 App
At present in Myteam11 there are four major sports with offers: Cricket, Kabaddi, football, and volleyball. Because of the massive demand for other games also, soon, the company will be adding many other sports.
Every day more than 50 contest is held, so naturally winning can go up to more than Rs 15 crore, users also earn signup rewards and cashback.
When Myteam11 has launched, 3 lakh users, only but at present, it has grown to 30X since launch. With the start of the year with an Average Rate Of Run of $20-$22 million, and targeting of $100 million incoming four to five years.
Download MyTeam11 App
Representation Of Myteam11
A Brand Ambassador of a company has to be motivating, persuasive as well as a person with a strong personality. So to fill this place, Myteam11 signed up with a famous former Indian cricketer Mr. Virender Sehwag as their brand ambassador.
Mr. Virender Sehwag also offered fantasy cricket, fantasy football, fantasy volleyball, and fantasy kabaddi in two formats named "Safe Play" and "Regular Play." He did a campaign called "Yeh Khel Hai Junoon Ka" for Myteam11.
You can also check-
How To Play Fantasy Cricket In MyTeam11
Check out Our complete post on MyTeam11 Referral Code. In the article, we have explained how you can signup and start playing on MyTeam11. If you want to add money in the MyTeam11 app then read our MyTeam11 Promo Codes to save some bucks while adding money to it.
Related Posts: