Advertisement

MPL Owner Name, Turnover & Brand Ambassador
MPL stands for MOBILE PREMIER LEAGUE. It is an online platform for playing games, fantasy sports, quiz and much more. It merely says participate, and win real cash prize all day. MPL keeps providing different types of the tournament to make your experience fun. You can participate in competitions, 1vs1 battle or fantasy sports.
Also Read: MPL Rummy: Play Rummy Online & Earn Real Cash With MPL App
There are many ways to earn money like you can Refer MPL app to your friends and family, and make money whenever someone uses your reference to join in.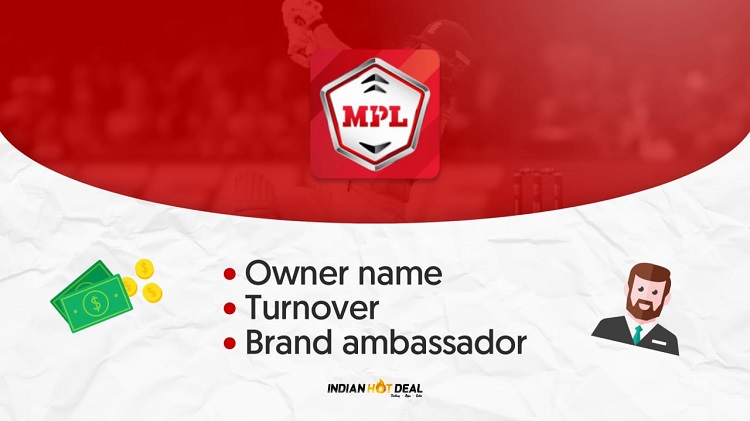 Must Read- Top 40 Fantasy Cricket Apps Lists To Download & Win Real Cash Daily
Who Founded This App?
MPL was founded by Sai Srinivas Kiran Garimella and Shubham Malhotra, who worked together on Consumer Electronics company CREO (which was taken by Hike Messenger in 2017) before founding the Mobile Premier League company (MPL).
Mr. Sai Srinivas Kiran Garimella is the CEO and Co-founder of MPL. Mr.Shubham Malhotra is the Co-founder of the Mobile Premier League app he did B.E. (Honours) from BITS, Pilani. Earlier it was just a side-load only app, but in October 2018 it was launched on play store and within a year, i.e. in February 2019 it was launched on the Apple app store.
Turnover Of This e-Sports Platform?
It was announced by the investors of MPL that on 8 November 2018 that MPL has raised $5 Million in funding led by Sequoia Capital. Around a fund of $30 million was led by Go-Jek in December 2018. MPL funds increased to $35.5 Million on 24 April 2019 led by investors of Go-Ventures, Times Internet
Who Is The Face Of This Growing Company?
Our current Indian cricket team captain Mr. Virat Kohli was signed up as the brand ambassador of the Mobile Premier League app in March 2019 for one year, and a marketing campaign was done during IPL 2019. For social media confirmation, Mr. Virat Kohli published a post on his social media profile.
A Campaign named "#GameKheloHeroBano", was done by Mr. Virat Kohli in April 2019. The Lowe Lintas agency in Bangalore provided support for the completion of this campaign.
As we mentioned above, the Mobile premier league also provides different types of fantasy sports leagues. So a new fantasy cricket league was launched on the platform of Mobile Premier League. It was named Superteam Fantasy Cricket League.
The Brand Ambassador who was appointed for Superteam Fantasy Cricket League was Mr. Kannur Lokesh Rahul commonly known as KL Rahul. He is an Indian Cricketer. He is a top-orderer batsman and a wicket-keeper. He plays for India internationally, Karnataka in the domestic circuit and he also plays in Indian Premier League as the Captain of Kings XI Punjab.
You can also check-
How To Play Fantasy Cricket In MPL
Checkout Our complete post on MPL Referral Code. In the article, we have explained how you can signup and start playing on the MPL Pro Apk App.
Related Posts: